Growing up without much, my family instilled the values that helped me become the person I am today. Together with my family, the decision was made to take this journey, through faith and love for our country that I ask for your support.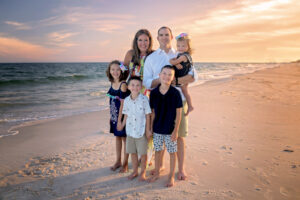 Family Life
I met my wife in the freshman year of high school, but didn't start dating until senior year. If you see her out and about – say hello, but be warned – she likes to talk!
We have been married 16 years and together have 4 children.
A Love for Education
Much of the time growing up my family lived pay check to pay check, my Dad came from a broken family and my Mom grew up between intercity St. Louis and Rural Arkansas, where she chopped cotton and had no indoor bathroom. This is where I learned the values not just of hard work, but also in making prudent decisions, sacrifice, and that you are in control of your life. I started elementary school in Rolla, Mo, where my Dad was going back to school to be an Engineer, while my Mom worked in the office of a local hospital. We didn't have much but they were always there for my brothers and I – they were working to make a better life for all of us.
Their perseverance paid off and I spent my adolescence in St. Charles county, a Viking and product of the Francis Howell system. The knowledge and experience I gained led me to the University of Missouri- Columbia, a degree in Business, and a successful career that has spanned the gamut of industries. I've helped lead organizations to improve their processes, businesses, and finances, and along the way I had the pleasure to pick up additional experiences, including an MBA from Washington University.
In all these experience I've looked for opportunities to solve the tough problems and help organizations eliminate obstacles preventing their obtainment of strategic goals.
Career Success
Throughout my career, I have made it a priority to make smart, meaningful, thoughtful decisions that benefit the organization I'm a part of. Out of college, I started at Blockbuster Video (you remember that right?) but moved my way onto better opportunities within several major manufacturing companies.
I have continued to set my sights high and working hard for opportunities to be in leadership position dealing with Process Improvement, Quality, Safety, and Operations.
My career had taken me away from St. Louis, but when my family and I returned we knew FHSD was the place we wanted to be.